There are many ways a person can legally enter the United States, represented by all the US visa types, from A classifications all the way to U classification visas. Each of the visa classifications has different requirements and criteria for people facing different situations. In addition, there are countries whose citizens do not have to have a visa to come to the United States but rather participate in the Visa Waiver Program. Furthermore, some visas allow the person to change to another visa.
Meanwhile, some visa classifications are eligible to be done as premium processing, meaning for an extra fee the visa will be granted much sooner, usually within 15 calendar days. Therefore, it wise to consult with an immigration attorney to fully understand all options and which steps to take along the complicated immigration web.
The purpose of travel, the job qualifications, and country of origin of a person are some of many different factors that distinguish which visa classifications a person can apply for. Below is a table of some of the different types of visa classifications:
| | |
| --- | --- |
| VISA CLASSIFICATION | BRIEF DESCRIPTION |
| A Visas | Visas for diplomats, government officials, and military personnel of other countries |
| B-1 Visas | Visas for competing athletes, business visitors, and domestic employees accompanying a foreign national employer |
| B-2 Visas | Visas for tourism, vacation, and medical treatment |
| C-Visas | Visas for people transiting through the United States |
| D-Visas | Visas for crewmembers and staff of an aircraft or vessel coming to the United States |
| E-1 Visas | Visas for traders from a country having a trade treaty with the United States |
| E-2 Visas | Visas for investors from a country having a trade treaty with the United States |
| E-3 Visas | Specialty visas for Australian professionals |
| F-1 Visas | Visas for academic students |
| G-Visas | Visas for employees of a specific, recognized international organization and for employees of NATO |
| H-1B1 Visas | Visas for special professionals from a country with a Free Trade Agreement with the United States |
| H-2A & H-2B Visas | Visas for temporary agricultural workers or for workers of a seasonal or temporary job in the United States |
| H-3 Visas | Visas for training in a program not related to employment |
| I-Visas | Visas for journalists and media personnel |
| J-Visas | Visas for physicians and exchange program visitors |
| L-Visas | Visas for intra-company transferees |
| M-1 Visas | Visas for non-academic students pursuing training or studying in a non-academic institution |
| O-Visas | Visas for foreigners of extraordinary ability in Sciences, Business, Education, Athletics, or Motion Picture and Television |
| P-Visas | Visas for performing athletes, entertainers, and artists |
| Q-Visas | Visas for visitors in an international cultural exchange program |
| R-Visas | Visas for religious workers |
| T-Visas | Visas for victims of human trafficking |
| TN & TD Visas | Visas for NAFTA professional workers (Mexico and Canada) |
| U-Visas | Visas for victims of criminal activity |
Visa Waiver Program
Individuals who meet specific requirements, from certain countries participating in the Visa Waiver Program are allowed to travel to the United States for either tourism or business (i.e. B visa classifications only) for 90 days or less without having to receive a visa. They must however receive authorization through the Electronic System for Travel Authorization, pay a fee, and go through the proper procedures at a port of entry of the United States. Further information about the Visa Waiver Program and an up-to-date list of qualifying countries can be found on the Travel section of the State Department website.
List of Countries Participating in the Visa Waiver Program (as of November 2012)

Andorra

Ireland

Singapore

Australia

Italy

Slovakia

Austria

Japan

Slovenia

Belgium

Latvia

South Korea

Brunei

Liechtenstein

Spain

Czech Republic

Lithuania

Sweden

Denmark

Luxembourg

Switzerland

Estonia

Malta

Taiwan

Finland

Monaco

United Kingdom

France

Netherlands

Germany

New Zealand

Greece

Norway

Hungary

Portugal

Iceland

San Marino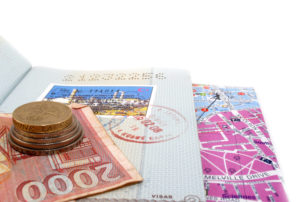 Raheen Law Group Can Help You
The various requirements for different visas can be confusing sometimes, especially for people facing deadlines or designated time-frames. If you are planning on applying for a specific type of visa or adjusting your status from one visa to another visa, you should consider consulting with an immigration attorney. Raheen Law Group can help you understand the complicated process, the time frame, and the proper steps you need to take. At Raheen Law Group, we will help you gather, complete, and file all the required paperwork properly and timely.
Please contact Raheen Law Group for a FREE telephone consultation. We speak English, Farsi (Dari), Urdu, Hindi, and Punjabi.