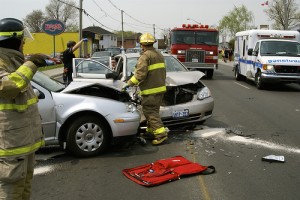 A wide variety of injuries can result from a car accident. The force of an impact by a car, truck or motorcycle at any speed can cause bodily injury to all those involved. Injuries from a car accident can range from minor scrapes or bruising to wrongful death. Common injuries associated with car accidents can include spinal cord injuries, fractures (including broken arms, legs, wrists, ankles, etc.), herniated discs, brain damage, rotator-cuff tears, neck strains.  If you were in a car accident, you need to protect two things — your health and your legal rights.  Following a car accident, you should be evaluated by a doctor right away.  Do not wait.  In most cases, your doctor will suggest a treatment plan and may refer you to a specialist for your injuries.   Then you need to contact a personal injury attorney to evaluate your case and manage your claim(s) with the insurance company(ies) involved.  The insurance company may have already contacted you and ask you to sign some documents for them — do not sign anything until you have consulted a personal injury attorney.
There are many questions to be addressed when dealing with car accident personal injury cases:
Who is at fault?: If a police report is drawn up on the collision, this is the best way to determine fault.  If you are at fault, your insurance company should pay or compensate the other people involved in the accident regarding the following categories.  If the driver of another vehicle is at fault for the accident, their insurance company should pay or compensate you for your damages and injury treatment(s) as well as for any other parties involved.  The important aspects of personal injury claims include:
Property Damage:  If you were not at fault, your car should be repaired properly, or you should be paid for its loss in value or its replacement cost.
Rental Car: If you were not at fault, you are often entitled to a rental car.  We can negotiate the duration and rate on your behalf.
Med-Pay: Medical Payments Provision (Med-Pay) is available after many accidents. In the state of Virginia, it is Med-Pay which provides money for medical bills.
Medical Care: You are entitled to be put back in the same physical condition you were before the accident occurred.
Pain/Suffering and Inconvenience:  These are "non-economic" damages and their recovery really depends on the attorney effectively showing how the injury has impacted your life.  Video and before and after witnesses should be used to reveal how life altering the injury is and if the injury altered activities you once enjoyed (including, but not limited to, sports, vacations, driving, walking, sitting, and standing).
At Raheen Law Group we make sure to ask you the important questions to give your claim the best chance at the most positive outcome possible.  We work hard to protect your rights at every step of the claim or litigation process and negotiate in your best interest so you don't have to.
If you've been in an auto accident, contact us for a FREE initial telephone consultation.  We speak English, Farsi (Dari), Urdu, Hindi and Punjabi.