Background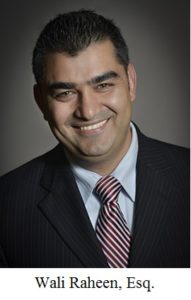 Mr. Raheen completed his undergrad degree with honors at the University of Toronto in Canada.  Then he moved to New York and attained his Juris Doctorate Law Degree (J.D.) and Master of Laws Degree (LL.M.) at the New York Law School and Fordham University School of Law, respectively. 
Following his post-doctorate graduation, Mr. Raheen worked with the prestigious NY law firm of Quinn Emanuel Urquhart & Sullivan, LLP, where he gained and reflected their successful motto of attention to detail in high quality work product. 
Mr. Raheen and his family moved closer to family in the DC Metro area in 2009, when he opened his own law practice here and became a Northern VA attorney. Mr. Raheen prides himself in providing outstanding service quality, individualized care, and attention to detail of a client's case.  "Truly listening is a rare quality among attorneys," Mr. Raheen has often said, and it is with that in mind that he strives to show this quality to every client.
The principal of Raheen Law Group, a Northern VA practicing attorney, Mr. Raheen speaks five languages and is admitted to appear before the Supreme Court of Virginia.
[table id=3 /]